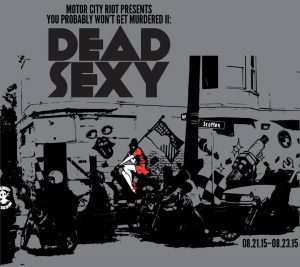 MCR Announces: You Probably Won't Get Murdered 2: Dead Sexy
August 21, 2015 – August 23, 2015

Aug 21, 2015 at 2 PM to Aug 23, 2015 at 5 PM
MCR cordially invites you to our SECOND MOPED RALLY in Detroit from August 21 to 23, 2015.
REGISTRATION
Registration is $10. You can register online here: http://motorcityriot.com/rally. Registration includes a rally pack, meals on Saturday, t-shirt, some free booze, and specials at the Saturday night party. .
If you cannot register in advance, you can do so in person on Friday or Saturday. You must register to ride in rally!
RAFFLE
We will be raffling off two custom-built and detailed mopeds as well as other prizes at the Saturday night party — a custom rigid Motobecane and a V1 Aspes. Photos will be posted below. Purchase raffle tickets in advance on the rally page — or in person on Saturday.
RIDE
The long ride will take place on Saturday and leave from the ONYC. There will be a chase vehicle to pick up all breakdowns along the route. Average top speed of the ride will be @ 35mph, and Detroit has potholes here and there, so plan accordingly!
LODGING
Discounted lodging for the rally available at Hostel Detroit.http://www.hosteldetroit.com/. The hostel is a super cool spot and central to all rally events of the weekend. Rates are between @ $35 per night for a group room and @ $74 per night for a private room. Call "Zach" at the Hostel and tell him that you are with the Motor City Riot rally. We suggest that you reserve as soon as you can.
Sorry — there is no public outdoor camping permitted in the City of Detroit!
ITINERARY
Friday
2:00 — 9:00 PM: Registration at Jumbo's Bar.
9:00 PM: Opening Ceremonies at Jumbos.
9:30 – 11:00 PM: Detroit Night Ride
Saturday
10:00 AM – 1:00 PM: Breakfast at the Old Nasty Yacht Club. Gas up and get ready to ride.
1:00 PM — 8:00 PM: Long rally ride with food stop along the way.
8:00 PM — 10:00 PM: Rally party at Nancy Whiskey's Detroit.
@ 9:00 PM: Raffle drawing.
@ 10:00 PM – ?: After Party!
Sunday
10:00 AM – 12:00 PM: Breakfast Rides.
12:30 PM – 3:00 PM: Sunday Ride.