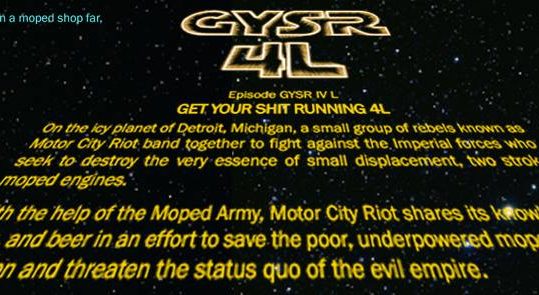 Get Your Shit Running for Spring IV L
February 24, 2017 – February 26, 2017
Feb 24, 2017 at 12 PM to Feb 26, 2017 at 10 PM
MCR and Detroit Moped Works cordially invite you to our annual "Get Your Shit Running For Spring IV."
For the weekend of February 24 to 26, 2017, we will be opening up our shop to help YOU get your moped running better, running faster, or just plain running for the warmer weather. Come and bring your bike down, come by to lend a hand, or just come by to hang out. Members of the DMW staff will also be around all weekend for any parts you may need. Please feel free to spread the word to anyone you know in need of help with a moped. It also helps to let us or DMW know what you are looking to do so we can plan your build/repair/upgrade accordingly.
We will have welding and sandblasting facilities at the event – but no paint or powder coating.
As always, this event is FREE. However, there will be munchies and swag available for purchase throughout the weekend.
During the weekend, we will be hosting an Initiation for our newest members Damon Freed and Justin Hatch.
In addition to other items, we will also be raffling off a refurbished and upgraded 1967 Peugeot TLS moped to help maintain/upgrade our shop, improve shop tooling capability, as well as continue to host free events for the community. Tickets for the raffle bike are $5 a piece, can be purchased online and/or in person at the event. You do not have to be present at the drawing to win (but you will have to arrange for transportation if going out of the area).
Specs on the raffle bike include:
– Complete super rare 1967 Peugeot TLS moped. 100% functional one-speed BB1 motor. This motor uses the same crank/bearings/seals as 102/103 Peugeot motors, 102 top ends, and 102/103 large taper crank ignitions. The ignition uses an internal ignition coil so no condenser to worry about. The 19″ Leleu wheels are the same as Puch and rear sprockets can be easily swapped.
– Rare 50cc Peugeot 102 Parmakit (basically the only kit for this bike).
– 15 Dellorto SHA cable choke carburetor with matching intake.
– Peugeot circuit pipe.
– New lightweight pulley and belt.
– New weird Euro bulbs.
– New drive and pedal chains.
– New grips (old ones were unusable).
– New petcock, fuel line, and filter.
– New 19 x 2.00 tires and tubes.
– Original side covers.
– All original parts (original cylinder, pipe, and pulley).