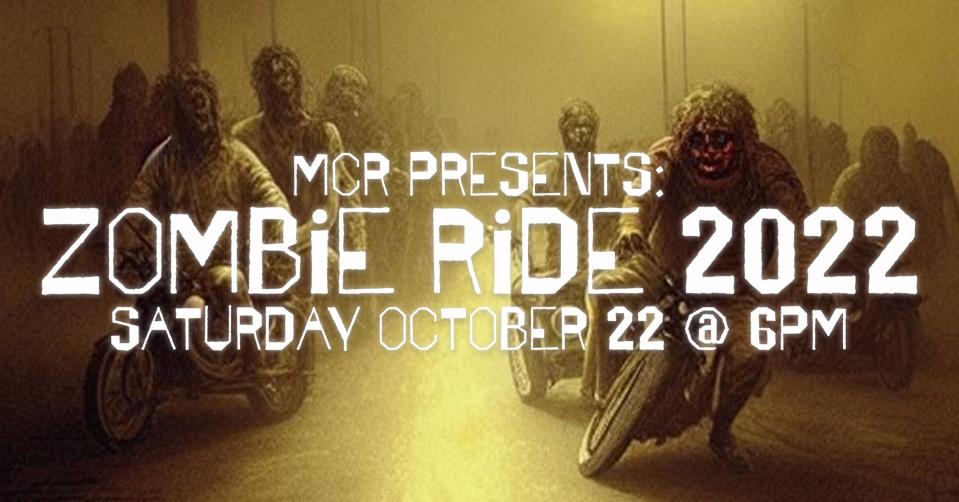 What: 2022 MCR Zombie Ride
When: Saturday October 22nd 2022
Where: MCR Detroit shop (ask a member for address)
Why:
The MCR "Zombie Ride," is probably the club's longest standing tradition dating back to 2011; kind of a "mini-rally."
Meet at the club house early to get your zombie makeup on & tie one on/ We'll take off to see the city and be seen on a *shorter,* *slower* ride through corktown / downtown / midtown where we'll surprise some folks at a bar or two then head back to the shop for a late night party.

The event is free, but we'll have a cash bar set up to raise some funds for the club's winter bills & events.
Come see the shop and meet the local moped community.

Best costume wins a $100 DMW gift card, but everyone in costume gets discounts at the cash bar – so dress to impress (or Scare, or whatever).

For the ride, anyone who can hold AT LEAST 25 mph, for AT LEAST 10 miles is encouraged to come.
Mopeds, Scooters, Onyx, Suron, Onewheel, Euc, Harley, etc – heck – even bring your
or
to hang out and provide a chase vehicle if you want?!

OR don't bring anything and just come to the shop to party. (There will be folks at the shop holding the party down while the ride is out).

For out of town guests and/or folks who "should not drive home," the field adjacent is available for RV's Camper vans, or party busses. The shop also has a few couches and dark corners to pass out in; so come make it count, lol.
See you then!
For questions or discussion please visit the Facebook event page below.